Here you can learn more about the different activities we organize.   
We are looking forward to seeing you soon.
SPRINGBOARD SKELLEFTEÅ 2023!
Save the date! FEBRUARY 2023 (Event in English) 
The goal is to merge the need for talented workforce with career opportunities for all of us who relocated to Skellefteå region from different parts of the world. 
If you are a corporate and wish to be one of the partners or sponsors please get in contact with us:
info@expatsandfriends.se
roland.eriksson@skelleftea.se
An event created by EFA and Skellefteå Kommun.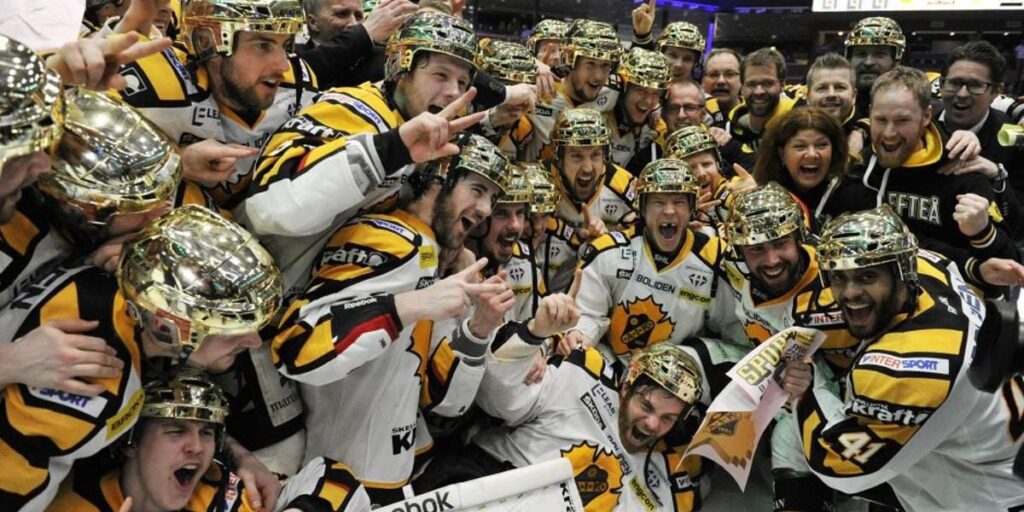 HOCKEY – Special Scandic Evening
In cooperation with Scandic Hotel, we have a special hockey package for 349 SEK.
There are 2 available dates: Sept 27 and Oct 25.
In this package is included the following:
*A hamburger (vegetarian burger is available too) and fries.
*A drink of choice (beer, house wine, cider, alc free beer/cider or soft drink).
*Entrance ticket to the hockey game.
*Introduction to the hockey coaches during dinner where they discuss tactics of the game & team.
*Bus transportation from Scandic to hockey arena
*10% discount voucher from Scandic, A la carte restaurant to be used after the event for Expats and Friends paying members only.
Please go to the
FB event
for more information and sign-up. Thank you.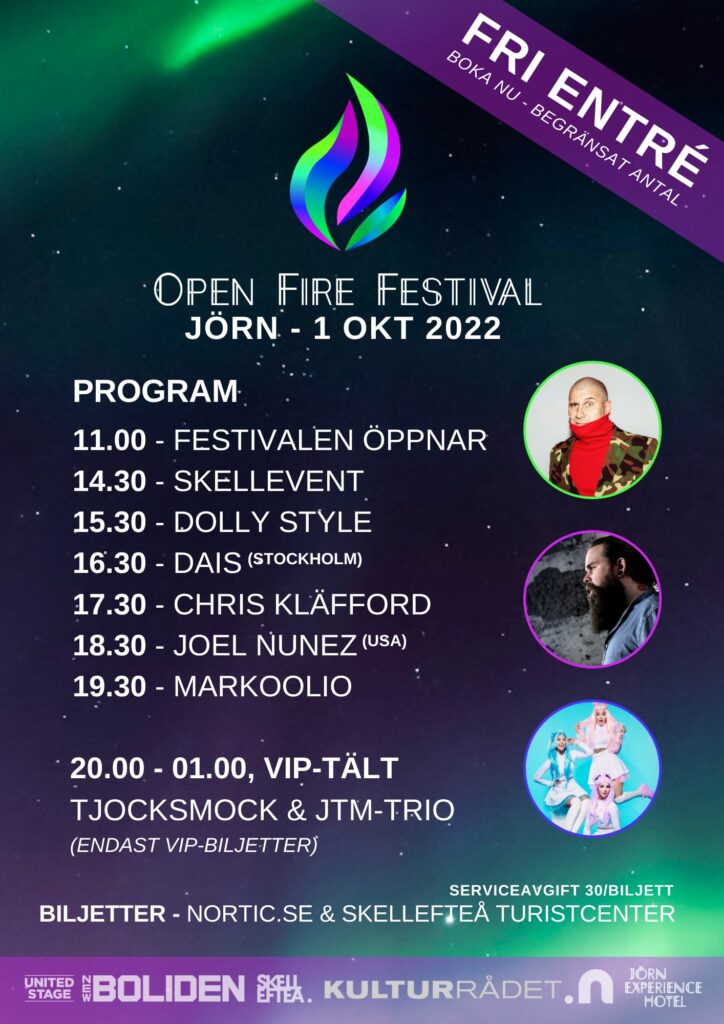 BOOK YOUR TICKETS FOR THE FIRE FESTIVAL EXPERIENCE!
Departure:  The Great Northern, Storgatan 53 Skellefteå. Gathering 12.30. Departure 13.00 OBS! TGN back entrance.
Return trip: Departure from Jörn to Boliden/Skellefteå at 20.00.
Coffee/tea at the gathering point, The Great Northern (TGN) – back entrance.

Round trip by bus Skellefteå-Jörn (1 stop in Boliden).

Tickets covered.
IMPORTANT things to consider:
Food can be purchased at the event or feel free to take some with you.
Event outdoors so bring clothes to keep you warm.
Email: info@expatsandfriends.se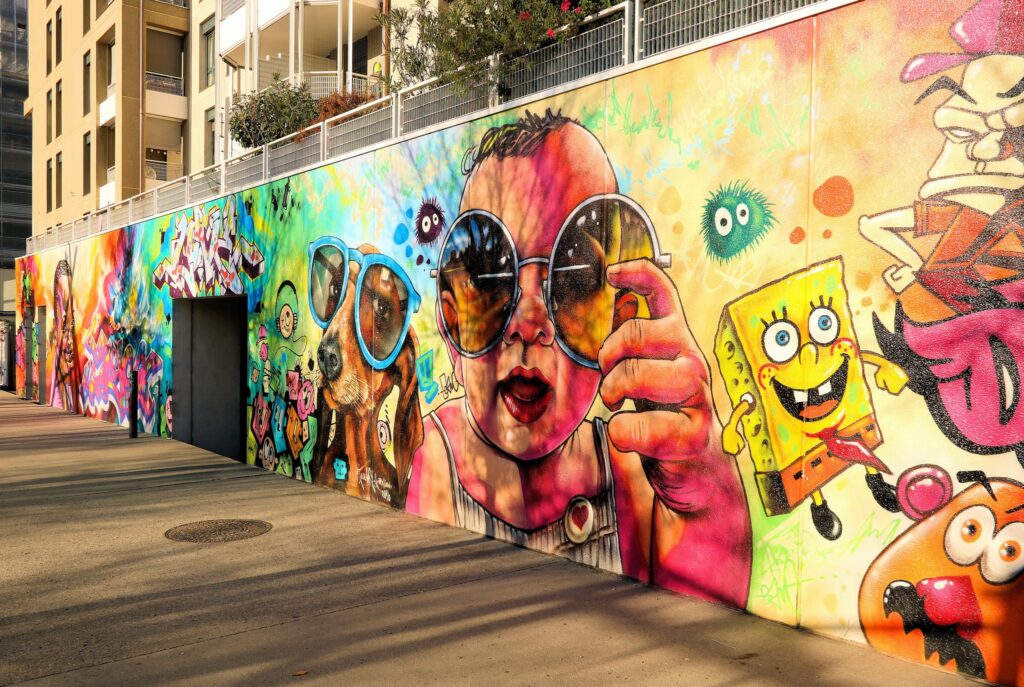 MEET & GREET : CULTURE CLUB
When: September 30
Where: Västerbottens rum, Stadsbibliotek – SARA kulturhus
Time: start 17.30 till (?)(the last one leaves)
Do you love culture, good food and meeting people? Then you are more than welcome!
We plan to have a great cultural evening. Fransesca Quartey (former VD Västerbottensteatern) will take us thru the history of culture in Sweden. 
The plan is to see a performance, have something to eat & drink. Mingle and talk about the experience afterwards, and plan what we would like to do next. 
For more information go to the FB event and sign-up. Thanks. 
EFA ANNUAL PICNIC 2022 AT THE GREAT NORTHERN!
An event for all ages!
When: Saturday, September 17th
Location: The Great Northern (House Be)
This Saturday we had made plans for EFA Annual picnic at Vitberget. It looks like it will going to rain that is why we have to move the event at The Great Northern (House Be), Storgatan 53. We will meet in the lounge, mingle, have a potluck, play board games and even take a walk if good weather shows up.
Fika, cutlery, paper cups/plates, coffee/drinks for children will be available at no charge.
There are no possibilities to warm food.
The nearest parking place is the Pantern parking house and the one across the Citykompaniet.
OBS! Please write in the
FB event thread
if you are attending and how many persons!
Look forward to seeing you then!
Your EFA hosts, Ibrahim Kebire and Fransesca Quartey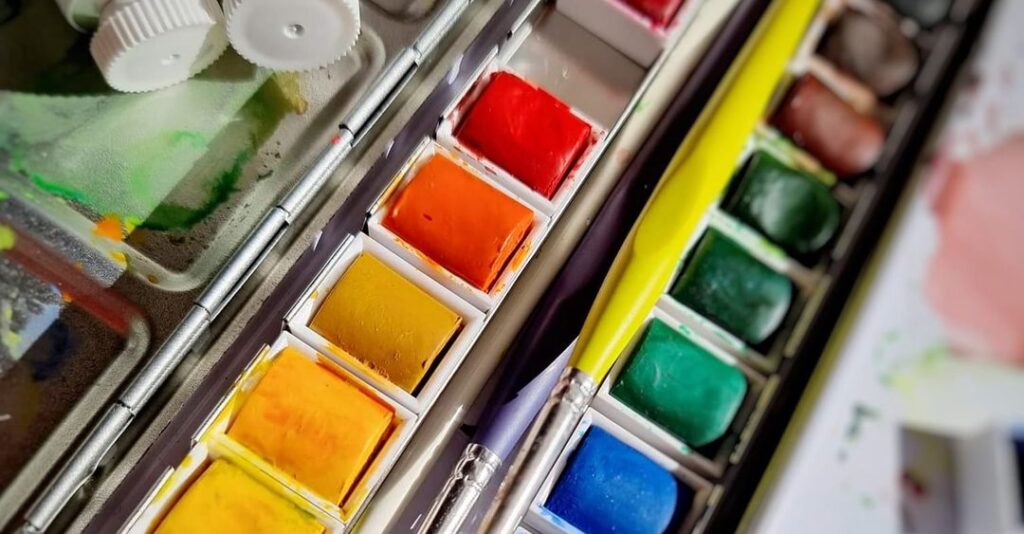 CREATERS & MAKERS!
When: September 8th, 16.30 to 17.30
Where: The Great Northern, Skellefteå
Are you creative in your work? Art, sculpture, jewellery, skateboard building…

Do you run a small business/ self-employed or do you aspire to turn a hobby into a business?
Now that EFA has a space at The Great Northern, we'd like to get some meet ups going. We'd like to create an event just for you creatives to exchange ideas, get inspired, or just to know that there are contacts out there who will support you in the future, our CREATIVE COMMUNITY
PS: Feel free to bring along examples if you can. And there will be Fika, of course!

STUDENT START!
Program 5 September
11: 30-14: 00
Open program 11:30 – 14:00 for you who are new as a student, maybe new in Skellefteå or just maybe completely green on what there is to do here in Skellefteå and on Campus. Welcome to calm your curiosity and have a nice time.
It is a mixed program with light lunch to the tunes of a band involved in Mullberget's association. Here you get to meet nice people who are happy to tell you about things that will make your study time both easier and more enjoyable. We are located at Campusparken, indoors or outdoors depending on the weather and wind.  But you will find us. 
For more info click here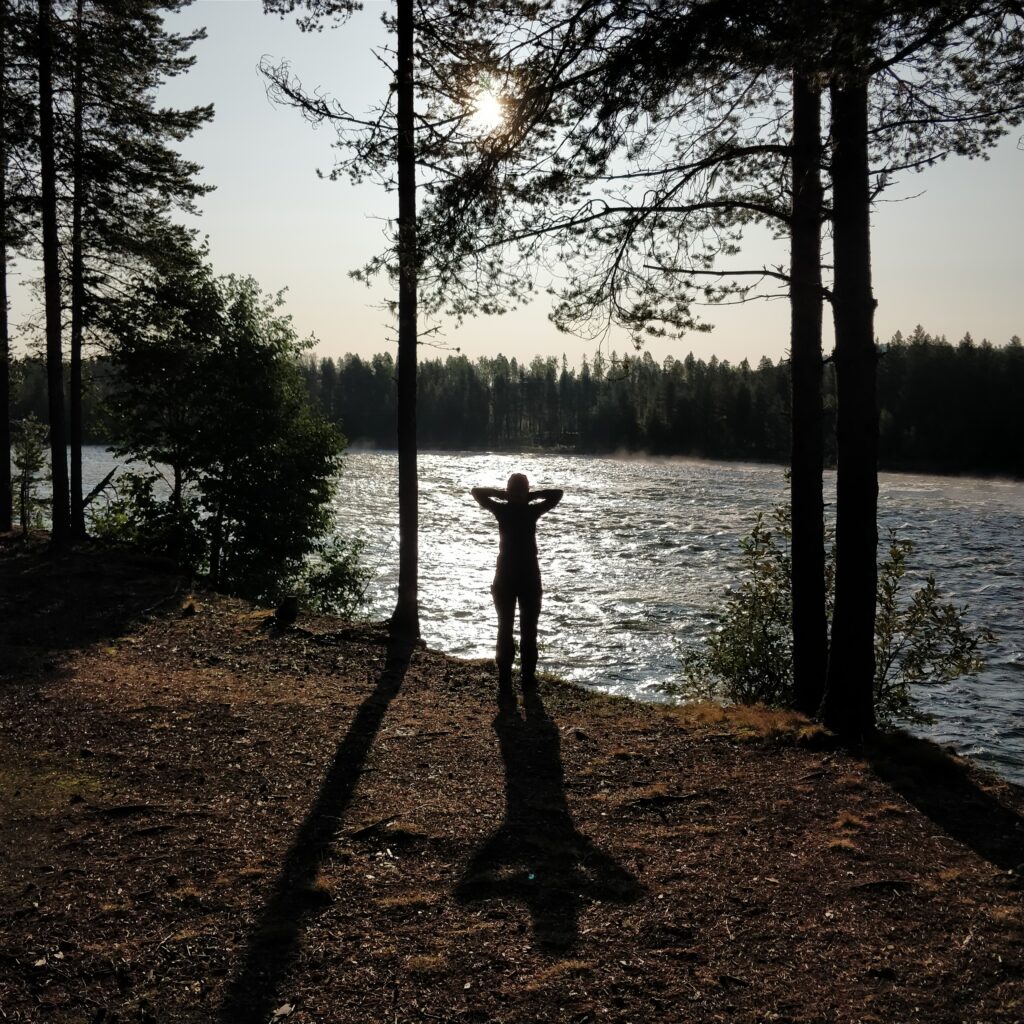 OUTDOOR ACTIVITIES with Toby Cowern
With (easy) access to nature and a large selling point of moving to the North of Sweden being focused on healthy work/life balance, EFA plans to organise and deliver a number of nature access events, representative of the relative seasons. 
These activities start this summer with the first event being 'Stress Reduction and Nature'. 
This two hour workshop will provide clear and detailed guidance in a practical, engaging, fun filled form into easy but powerful ways to integrate positive, nature engagement into your daily and weekly lifestyle routines.
 The event is delivered on partnership with Hello Nature AB, who work with an interesting concept known as the 4'i's in their activity delivery. That all events delivered should provide attends the opportunity to be:
Informerad (Informed) 
Imponerad (Impressed) 
Investerade (Invested)
Additional activities and events will continue through the Autumn and into Winter.  The date and times will be posted on the
FB page
.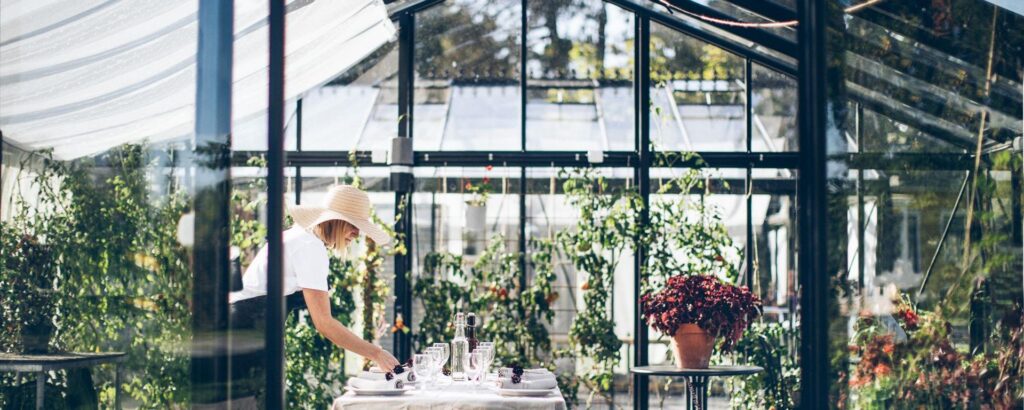 WELCOME TO A DAY IN BURTRÄSK!
Welcome on a little adventure outside the city center!
Date: Tuesday 5th July
Bus 225 leaves from Skellefteå bus station at 10:45 am arriving to Burträsk at 11:35 am or you can just drive there. The journey takes about 40 min.
At the bus station you will be met by Fransesca Quartey – EFA boardmember who lives just outside of Burträsk and who will be your local guide for the day.
PROGRAM
1. A visit to the local summer market that opens the same day.
2. A visit to the local deli where they have many delicacies from the surrounding villages.
3. A visit to a local flea shop and the quaint Hat Museum.
4. Late lunch at The Edelvik Café and Garden
5. Historywalk to the outdoors local museum area.
6. Bus leaves back to Skellefteå at 4:15 pm arrives 5:05 pm
7. For those who wish to stay a little longer. Transport to Innansjön (where Fransesca lives) where the village community center has their popular Summer Waffle Evenings opening 6:00 pm. Outdoor seating overlooking The Göksjön Lake.
8. Transport back to bus leaving for Skellefteå either 7:10 pm arriving in town at 7:55 pm or bus after that leaving at 8:15 pm arriving in Skellefteå 9:05 pm.
Check the
FB page
Post Feed for more information to contact the organizer.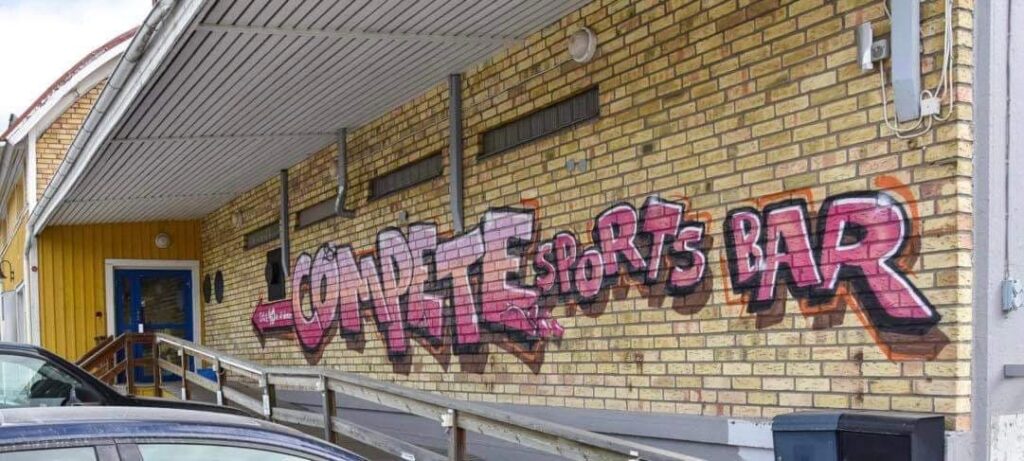 AW MINGLE!
When: Saturday, 18th at 19.00
Where: Compete Sports Bar


Are you new in town, young professional, newly single or married forever and want to enjoy an evening out having a smooth red or a cold beer then this event is for you.
There is no one too old to have fun… So off the couch and come out to socialise!
Please answer in the
FB event
comments if you are coming by latest Tuesday, 14 so we can book the right no. of seats!
See you there in a good mood!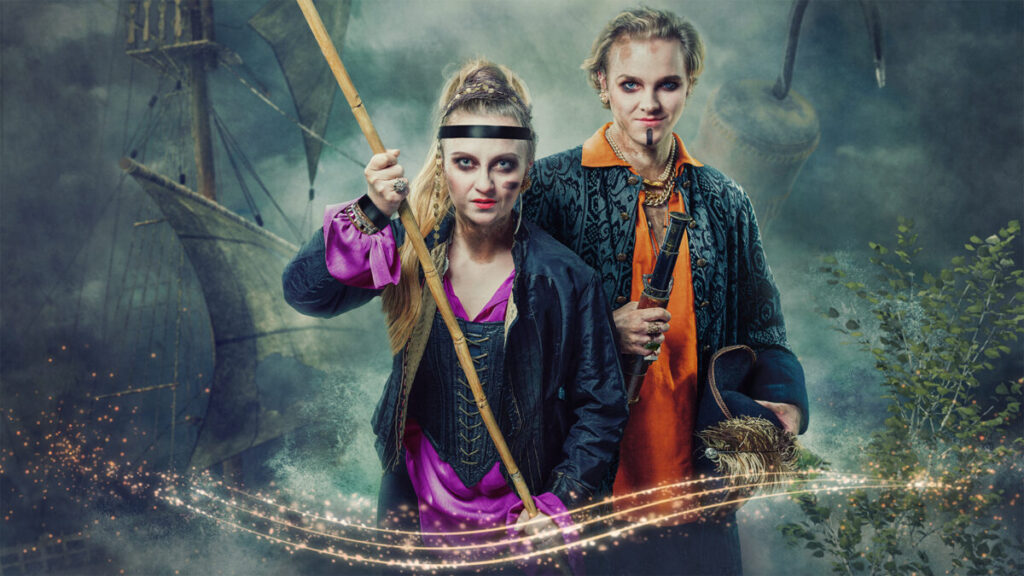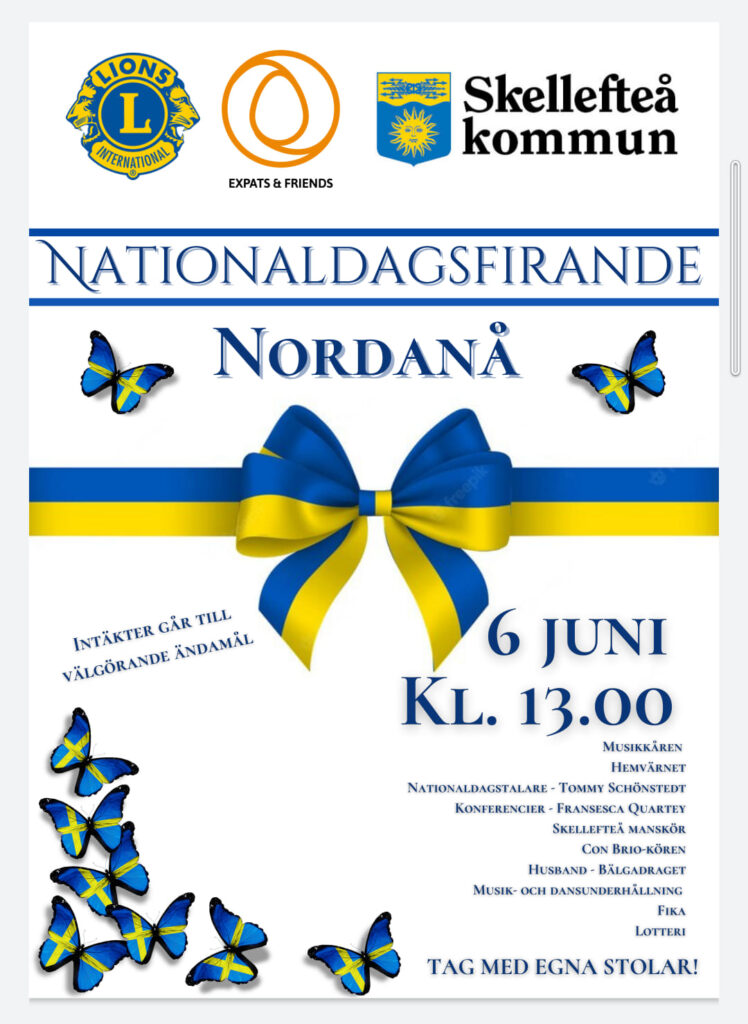 6th of June: National Day – Nordanå
Lions Club Skellefteå will arrange as every year the national day at Nordanå in association with Skellefteå Kommun. 
Expats and Friends Association will partner up too and take part to the outdoor event starting with carnival from centrum/Torget to Nordanå, continuing with sales and donation later on of the money from a 10m sandwich with filling specific your country and not least performance of traditional songs and dances in folk costumes that shows your identity.

It would be greatly appreciated if you could volunteer to any of these activities:

1. Carnival (playing an instrument, show your traditional costume or contribute with something typical for such event).
2. Help us with the filling and sales of the sandwich (a small amount of your expense is reimbursed).
3. Join the day, sing and/or perform one of your traditional dances.

Please get back to us, PM on Messenger to Monica Gimerus or Cristina Lindberg Ghimpu and/or send an e-mail at: info@expatsandfriends.se

Deadline, May 20th

Many many thanks in advance!!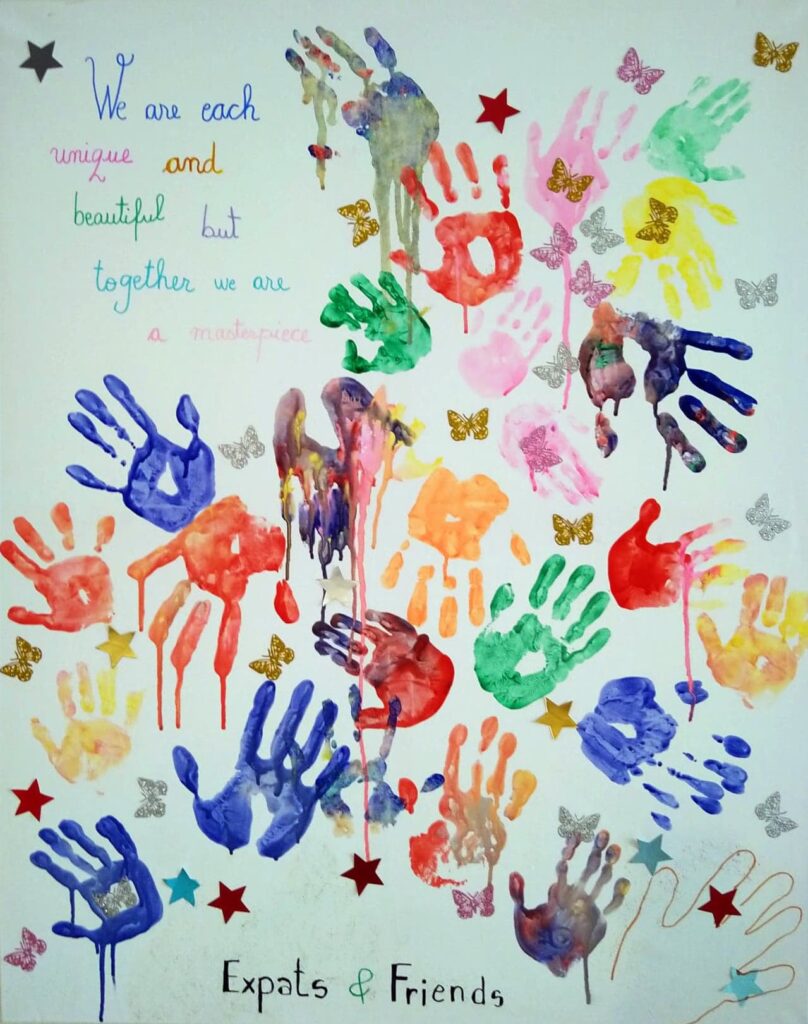 Children's Day!
Date: May 28th
Time: 13.00-15.00
Place: Studieförbundet Bilda Nord, Stationsgatan 15
This year, EFA and Studieförbundet Bilda Nord would like to do something special for/with children just before the International Children's Day.
We would like to organise 1-2 hours workshop. With children's help, we will do one big Expats and Friends Masterpiece and therefore we provide all the necessary material.Children of all ages are welcome! If one is too young then a parent/grandparent can help.
Fika available for children and grown ups.
Go into the
FB event
for more info and to register your participation.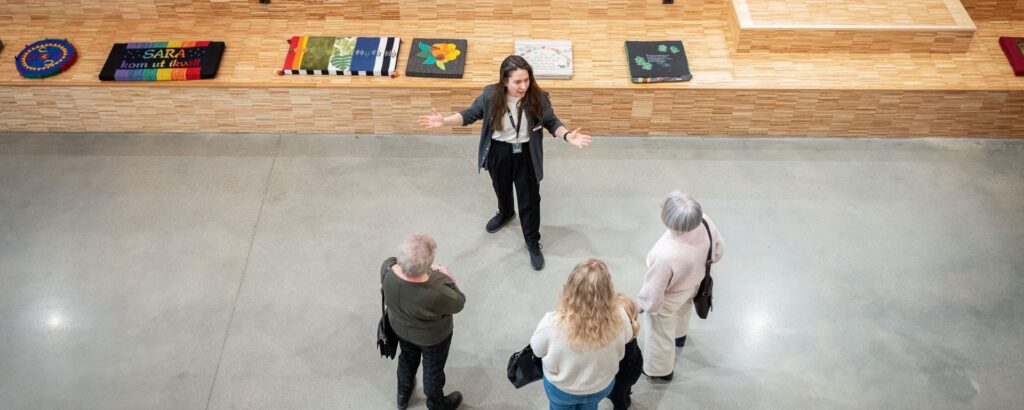 GUIDED TOUR IN ENGLISH – SARA KULTURHUS!
Please join us for a guided tour in English at Sara Kulturhus/Sara Cultural House on Sunday May 15th at 11.30 AM.
Meeting point: Wood Hotel entrance/reception
Now it is your chance to have a look behind the scene.
The tour is 30-45 min and then we can stay for lunch at Paolo's restaurant (same premises – own cost).
Tour guide: Marina Georgescu
Admission: Free. Limited places (15) –  info@expatsandfriends.se or FB event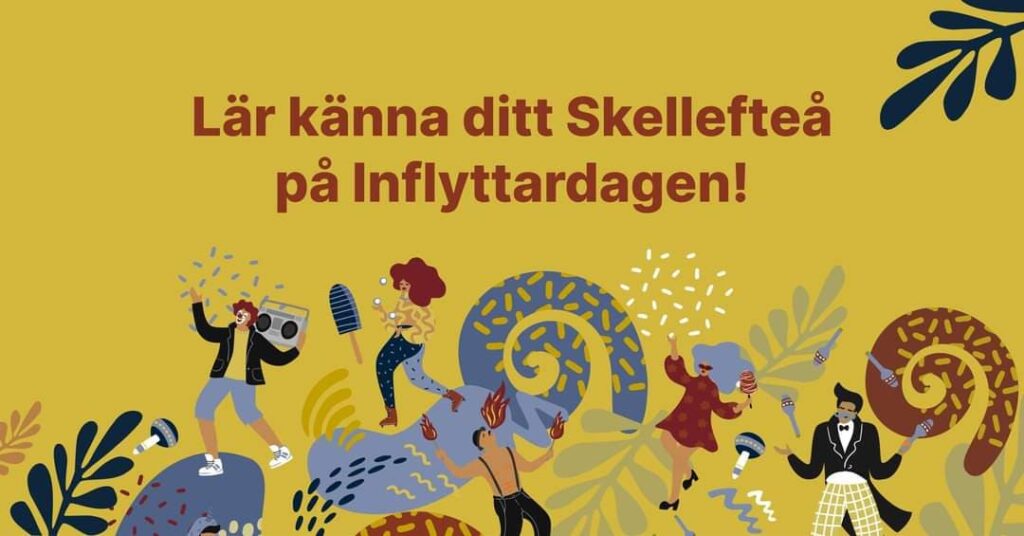 MAY 8TH – Moving in day!
Did you relocate to Skellefteå in the last 2 years? Please feel welcome to join "Moving in Day".
Are you interested to find out about the exciting things taking place in Skellefteå?
Many associations, organisations and companies will participate, with both activities and offers for you who have recently moved here. Skellefteå Kommun will tell you more about the activities and services that the municipality has for you.
The whole family is welcome and there will be a variety of activities such as pony trotting, art crafts, dance workshop and competitions.
In other words, there is something for both children and adults, plus the opportunity to meet people who have lived all their lives in Skellefteå as well as newcomers just like you.
When and where? Sunday, May 8th, 10.00-15.00 at Skellefteåtravet (Travbanan 1, 931 63 Skellefteå).
The entrance is free and you do not need to register in advance, but please bring the invitation as ticket.
There are plenty of parking spaces, and it is also possible to get there by bus, bike or walking.
Note: If you did not receive an invitation by post please let us know!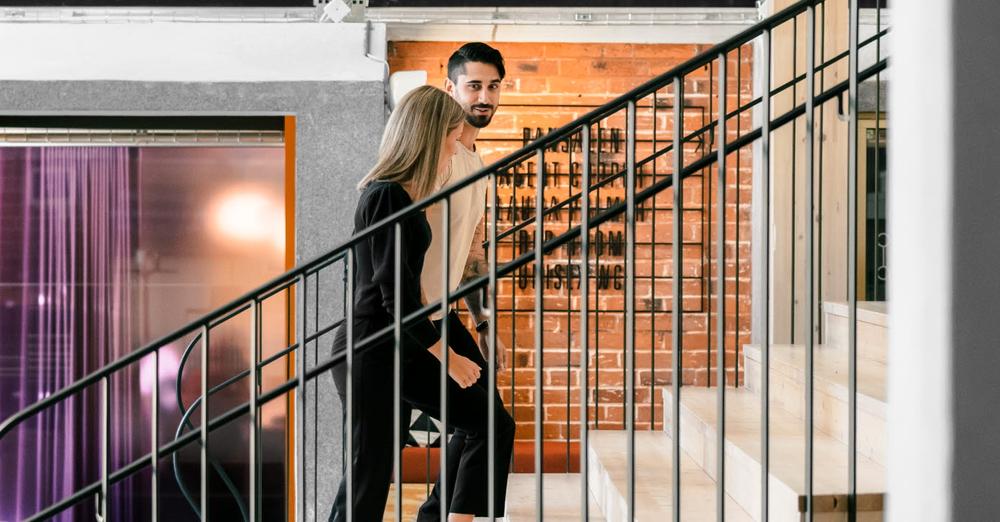 Expats & Friends Association – Skellefteå, Sweden (EFA) will participate to the Morning Meeting at Scandic Hotel, May 6th at 7.00 am.
Topic: International competencies
With all the investments and establishments that take place in Skellefteå and the northern region, it will not be enough to recruit locally and nationally, we will need to turn to Europe and the rest of the world. How do we take advantage of international competence and how do we attract people to discover Skellefteå? We will address this hyper-current topic at the next morning meeting on May 6 at Scandic in Skellefteå.
Participants:
Jens Pihlblad, Marketing Manager Minnovation
Sven Burman, content producer Visit Skellefteå
Jonas Lindgren, Head of the Talent Acquisition business area Gruvor Boliden
Rehana Lothian and Per Dinborn from Expats and Friends
For registration please click on the following link -Deadline May, 4th. You can also watch the streaming of the event online!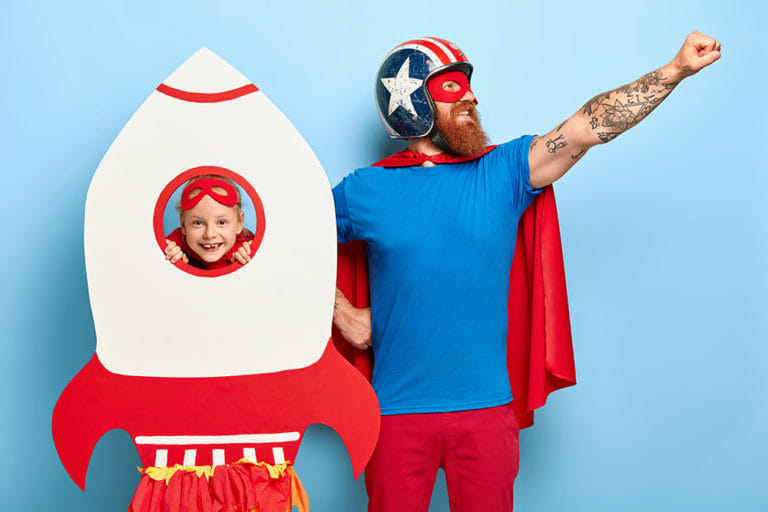 Expats and Friends Association and Exploratoriet Skellefteå invite you to a: "Spaceship workshop" – for both children and adults!
Saturday April 9th at 13.00. Please arrive 10 min in advance!
Offer: 2 tickets for 1, coffee/Festis
Registration: info@expatsandfriends.se or write in the comments in the FB event.
Sara Stengård, our host and CEO Exploratoriet Skellefteå will welcome and present us the organisation as well as the current exposition "Spaceship workshop".  
Ready for lift off?
During this workshop you get to create mini-space ships and satellites. Can your spaceship fly closest to the moon?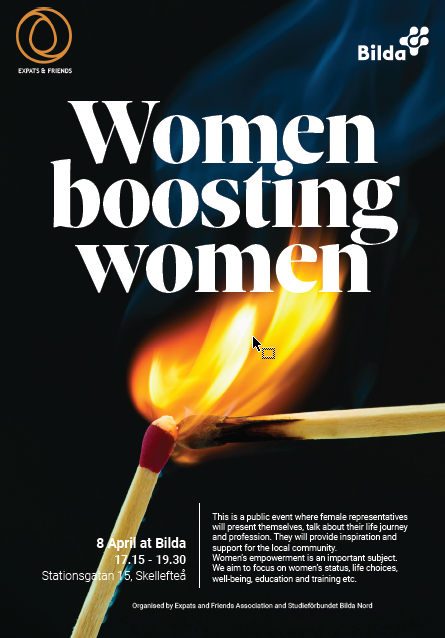 Thursday May 12th, 18:15-19:45
Studieförbundet Bilda, Stationsgatan 15
or info@expatsandfriends.se
Christina Soldan, leader of the Liberals in Skellefteå, vice-president for Liberal Women in Västerbotten and high school teacher in Skellefteå. Christina was born and raised in Romania during the communist era and moved to Sweden 32 years ago.
Ellenor Lindgren is an actress, play writer and producer living in Skellefteå. She has been in the performing arts for twenty years and tours throughout the country. Ellenor will talk about her artistic choices, and the journey from idea to reality.
EFA & KULTURFÖRENINGEN MULLBERGET come together!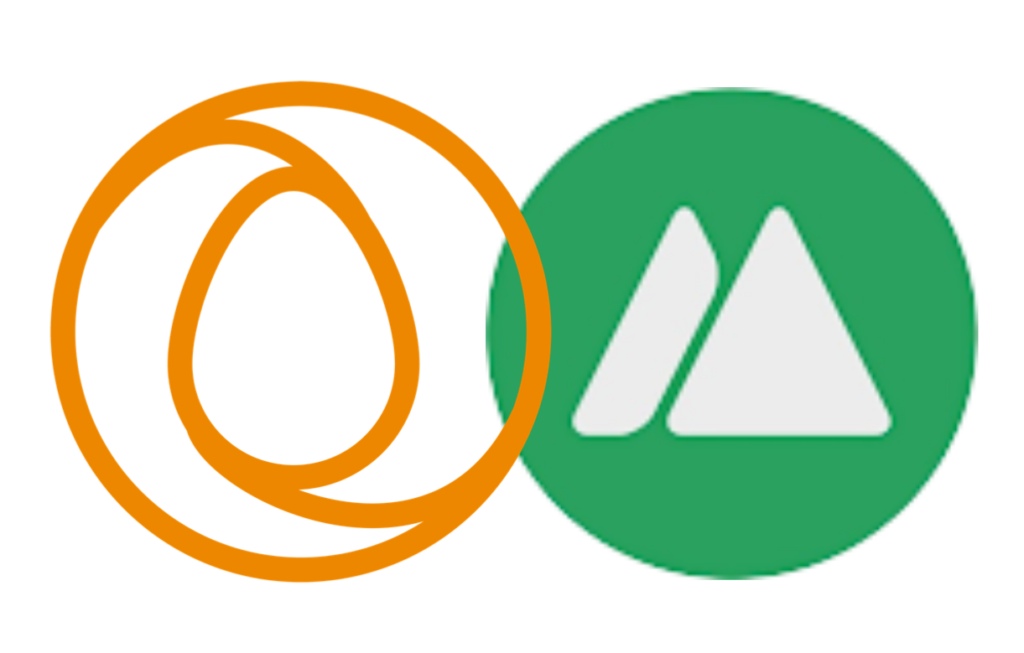 A musical collaboration – calling all international musicians!
Friday, 25th of March 2022 – 16.00
EFA and Mulberget collaborate on a meeting of musical minds / jam session.
Newly arrived musicians will meet local musicians and explore possibilities for new collaborations.
For more information please write to: info@expatsandfriends.se (mark your email "Mullberget")